OBS Medical (Abingdon, UK) is pleased to announce its partnership with Nihon Kohden (Shinjuku Ward, Tokyo, Japan) to market Visensia for the advanced and early detection of patient deterioration in Japan.
Managing Director Simon Didcote explains, "To market Visensia in Japan has been a long-term ambition of OBS Medical. The need to identify and prioritize patients who are unstable or showing early signs of deterioration in the era of the COVID pandemic has never been greater."
"The aim of Visensia has always been about empowering caregivers to spot the subtle signs of deterioration and to provide them with a simple, unambiguous call to action, helping to improve clinical outcomes and patient safety. To see the Visensia technology get adopted across the globe is a testament to our determination and resilience in a competitive and rapidly evolving market"
"Partnering with Nihon Kohden on this endeavour has been very rewarding in terms of their expertise and knowledge in advanced digital technology driven by data, as well as their mutual understanding of the clinical need for Visensia". Now that we have market approval, we can begin to evidence the health economic benefits the technology enables, helping to drive adoption across the region."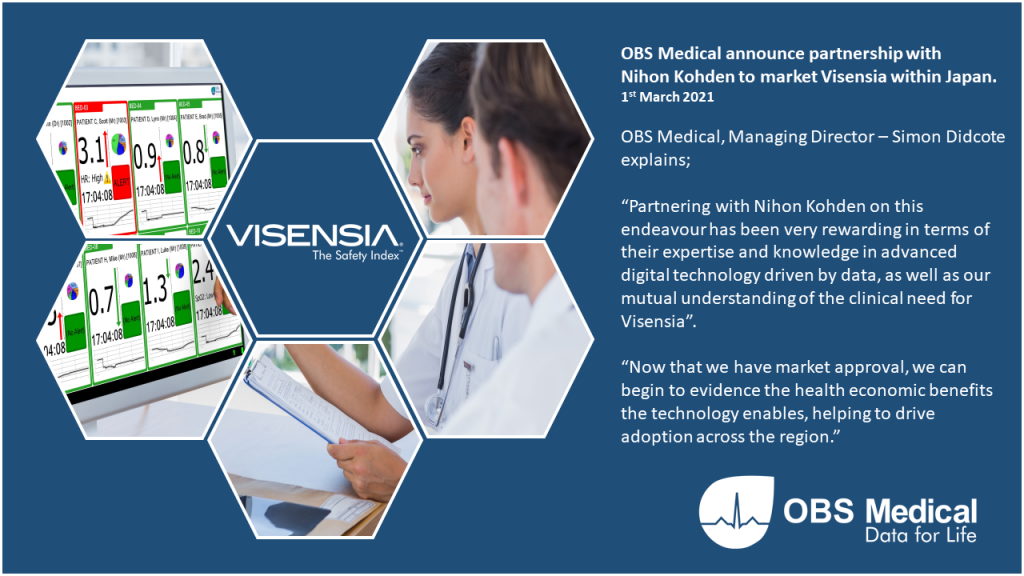 About Visensia -The Safety Index
Visensia analyses and interprets the combined patterns of up to five vital signs collected from existing bedside monitors, nurse central stations or manually during routine observations to generate a single early warning index: The Safety Index.
When Visensia – The Safety Index (VSI) is used to monitor a patient, an alert is automatically generated whenever their vital signs are outside the boundaries of normality, identifying them as "High Risk", helping reduce the number of unexpected and avoidable deaths.
Visensia provides medical practitioners with an indication of a patient's wellness and gives them the time, the confidence, and the information they need to significantly improve clinical outcomes and to aid the optimization of hospital resource utilization.